Our adventure begins with our team waking up to find Bwox in their room, waiting to talk to them. He offers to trade information with them, asking them to start by telling him why pirates, specifically Death from Below are after them.
They tell him about stealing one of their ships when they were trying to escape a cruiser the pirates were attacking (They decide not to say anything about the orb). Bwox doesn't quite appears to believe them, but realizes that's the only information he's going to get for now. He tells them luckily for them, they are worth more to him alive then what the pirates are offering to find them. He tell them that he has cleared them to leave the spaceport, if they can get there. He also warns them that there are Aqualish pirates all over town, looking for them while hiding from stormtroopers.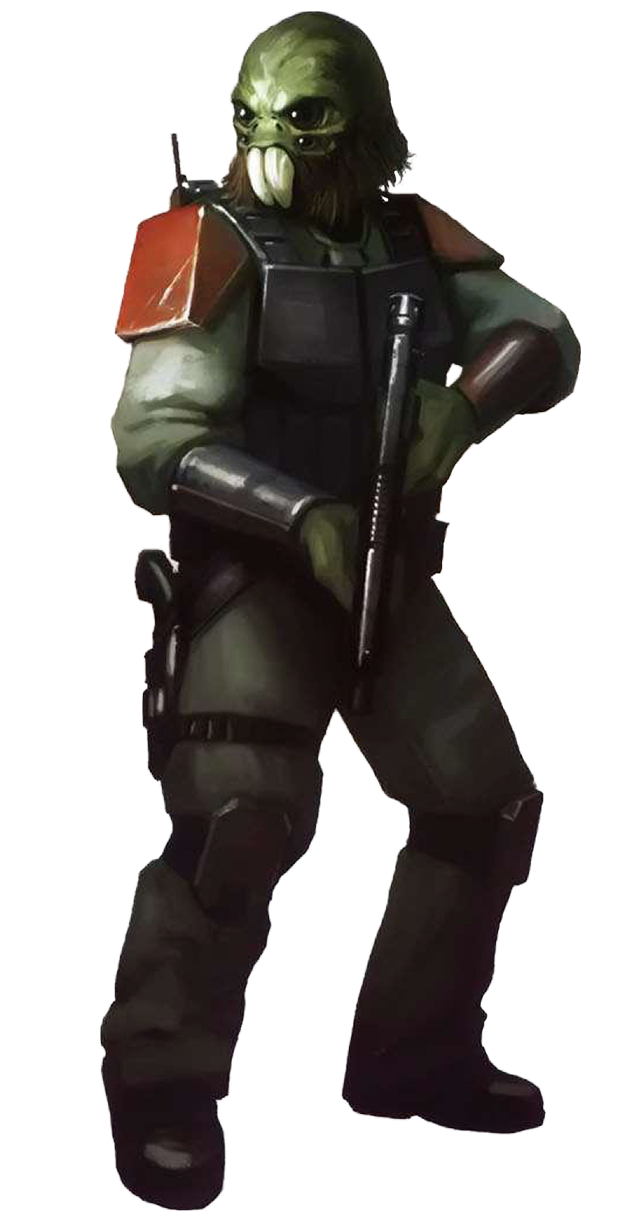 The crew gathers into their speeder, with officer Fred in back and Luna at the wheel. On the way to the Spaceport they notice another speeder rapidly approaching behind them, and yet another speeder moving to block their path. To know ones surprise, Aqualish start attacking. Luna crashes into the speeder that is now blocking the road in front of them, knocking out some of the pirates inside. Gandal fires a rocket at the speeder behind them, his aim is true, but the resulting explosion causes the speeder to turn into a flaming battering ram headed directly at them. Luna gets out and drives the speeder blocking the way herself, but while she is doing that the pirates that were inside get out and grab Boss. As soon as Luna moves the pirates speeder it reveals Brock, with a large Ghhhk behind him. Brock starts monologuing about getting revenge for the death of his Acklay, then the beast lets out of shriek that pierces their ears and causes them to almost double over in pain. Mom decides to try to silence the beast and shoots it. It is hurt, but unfortunately it shrieks again in pain causing them to suffer more. They decide they need to take out that Beast quickly, and K'lee throws a thermal detonator but it just rolls to a stop under Brock's foot. Gandal shoots a rocket but the beast bats it away and it falls harmlessly into a nearby dumpster. Boss decides to deal with the speeder that is on fire, and gets into the spare speeder and rams it into the one headed towards them, jumping out in time to avoid any harm himself. More pirates arrive on foot and stab Fezzik, he decides he can't take it anymore and in his Wookiee rage beheads several of them, almost fainting from the exhaustion.
Another screech from the beast causes Boss and Fezzik to faint. Gandal jumps out of the speeder to get him, then he passes out from exertion himself as soon as they get back inside, saving him from what would have been a killing blow from Brock. As they get ready to flee, mom takes aim at the thermal detonator still on the ground next to the ghhhk. The beast dies engulfed in flames, letting out one last whimper-shriek before it dies.
They make it back to the spaceport without further incident and make it into orbit, taking a moment to relax and figure out their next move.