Death From Below
Death From Below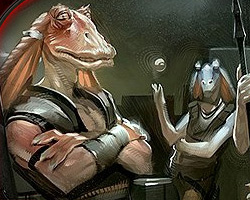 A group of pirates the crew of the Colo came across when they first met. Not much is known about them.
The group is currently flying around in a space ship they stole from the pirates, so they know the pirates ships have been modified to also go underwater.
Other than the Gungan pirates, the group has also had a run in with a Karkarodon named Brock, .
The pirates are also interested, very interested, in getting back the orb that the group currently has.